Lose yourself in a triangle much more daring than the Bermuda's triangle, that of Reims / Laon / Soissons… and go in search of an artisanal brewery, its two founders and a small badger… a stone's throw from the Chemin des Dames !
We are Laureand Renaud, a couple of sympathetic and eternal thirties. With our legendary dynamism, our project was to create an artisanal microbrewery in our small village of Jumigny, in the department of Aisne.
Laureis originally from this charming village in the Axonnais, and when both settling in the countryside in a family house, Renaudbecame interested in the possibilities of local and viable productions. Eureka! Seeing the malting barley cultivated by Laure's farming brother, the idea of brewing a local beer was born!
After several brews and tastings with family and friends, we saw that this very small production was already provoking great enthusiasm among its first consumers. This is how the idea of making it a full-fledged activity sprouted …
The arrival of our little Louise gave us the desire to change our life, to work locally with traditional products and to give meaning to our activity! We also gave birth to La Musteline, our badger, at the same time endearing, funny, friendly, but also strong in character, assertive and imposing, just like our tasty beers that she iconizes to perfection.
Our 100% artisanal production is intended for consumers, as well as restaurants and retailers (wine merchants, specialist stores, souvenir shops, etc.) but above all for lovers of good products and bon vivant. Because our beers are above all tasty brews of conviviality, friendship and French savoir vivre! Our regions and especially our brewers have talent!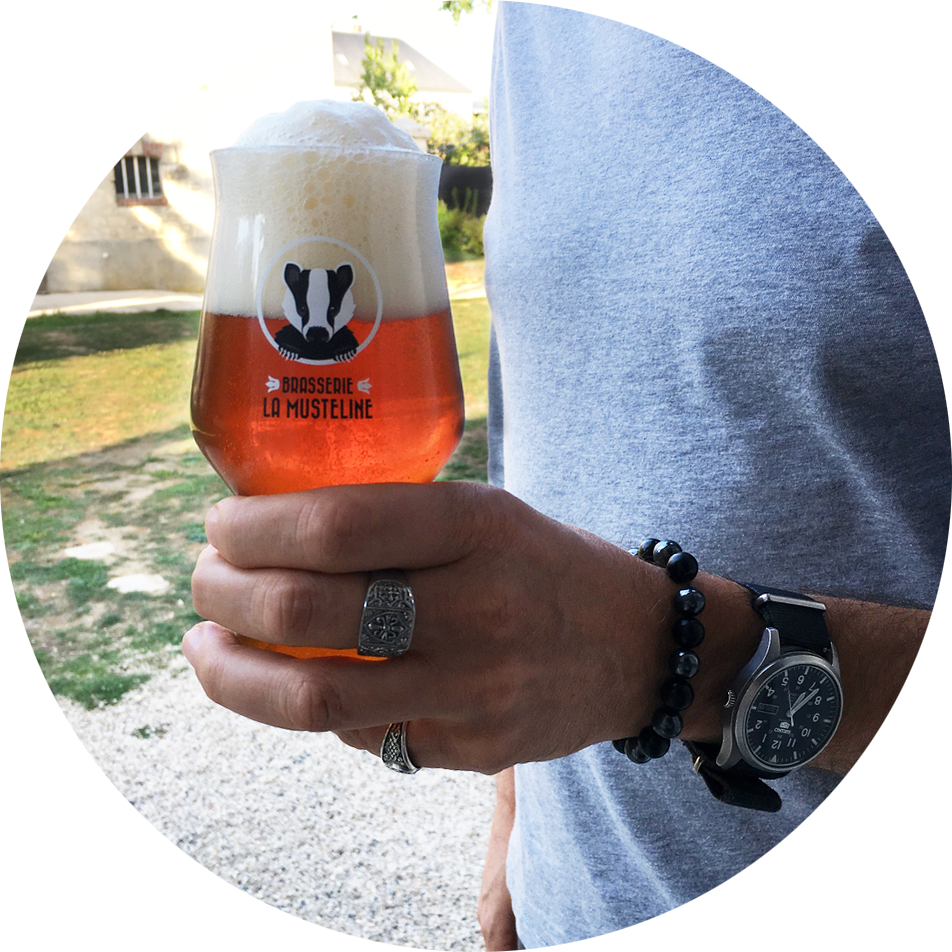 Renaud, the flavor of know-how, … and Laure, sparkling with ideas and organization, form a unique mix, brewed and brewed in Jumigny, which will prepare you for a unique moment.
Uncovering a La Musteline craft beer is not just drinking a quality beer, with carefully selected ingredients and brewed with passion, no, drinking La Musteline is drinking our values, tasting our vision and enjoying the pleasure that we provide.
Enjoy the bubbles of Friendship and Conviviality, because on weekends in the countryside, after a long day of work or on the banks of the Seine, La Musteline can be enjoyed alone or with friends in an epicurean atmosphere. La Musteline is also a getaway to Freedom, the Direct Path to Nature, its unadulterated aromas make it an authentic drink. Choose a beverage that immerses you in our rural universe.
Make a statement with a beer with character, follow in the footsteps of our independent badger, sure of herself, assertive, but always with elegance and naturalness.